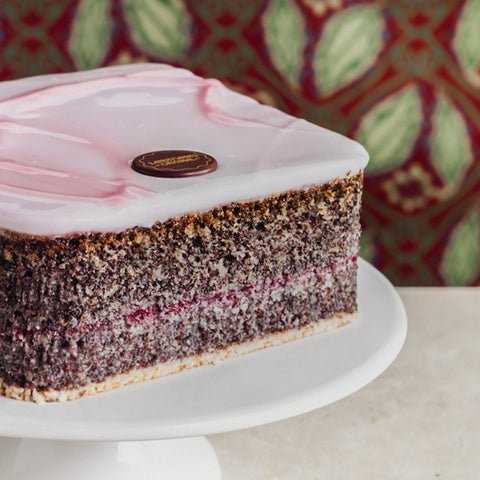 Waldviertel gray poppies. Baked
fluffy.
Cranberry jam.
Details & Ingredients
Ingredients:, Poppy seeds 15%, sugar glaze (sugar, water, glucose syrup), butter, sugar, egg white, yolk, apricot jam (apricots 60%, sugar, gelling agent: pectin, acidifier: citric acid), hazelnuts, cranberry compote 7% (cranberry sugar, pectin), Wheat flour, vanilla sugar (sugar, vanillin), salt, lemon peel
Durability:, 7 days
Storage:, The cake must be stored at room temperature and is intended for immediate consumption.

Allergen directory
A cereal containing gluten
B Crustaceans
C egg
D fish
E peanut
F soy
G milk or lactose
H Nuts
L celery
M mustard
N sesame
Oh sulfites
P lupins
R molluscs
Nutritional values
Energy, 2349 kj 561 kcal
Bold, 36.8 g
- of which saturated fatty acids, 11.79 g
Carbohydrates, 52.9 g
Bread units, 4.41 BE
- of which sugar, 31.73 g
Egg white, 10.5 g
Salt, 0.412 g
Fiber, 2.7 g
Alcohol, 0.0 g